客户 / 参考
We are proud to serve the chemical and pharmaceutical industries and research institutions around the globe for more than 70 years by providing our outstanding reactor systems, pilot plants and related services.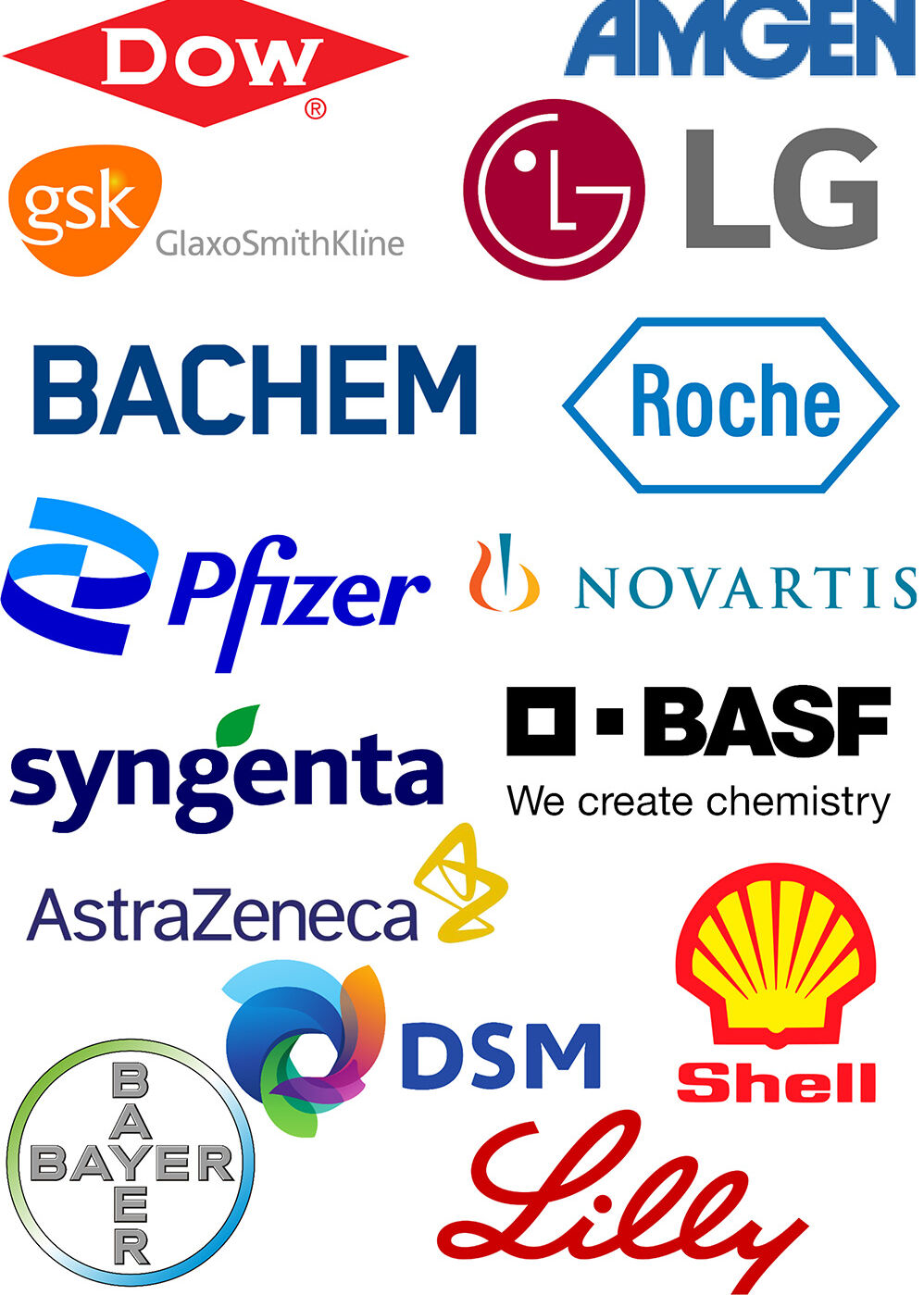 "The 100ml novoclave works great for my bench top scale. I love the idea that I can scale up to 600ml at any time without having to purchase an entire new reactor. We use the novoclave for benchtop depolymerization reactions. Basically, we fractionate biomass into its monomeric components to serve as platform chemicals for other high value biomaterials or bioproducts. This employs water together with other solvents, acid or a base. The reactor vessel is well built to serve its purpose. It does not take up space at all which is great for a benchtop lab setting."
Emmanuel Atta-Obeng, Assistant Professor, Department of Natural Science, Coppin State University about the novoclave
"The equipment is great to use! I really enjoy the quality of the stainless steel. Knowing that the vessel will be sealed as long as I operate under the designated safety measure makes me feel confident in the equipment! The vessel is a pleasure to work with and I have recommended Buchiglas to my colleagues."
John Weilenmann, MSc. Bioresource Engineering Candidate, McGill University about the miniclave steel
"For carbonization, we have chosen the Buchi kiloclave Type 3E with a Cyclone 300 drive as stirrer agitator. The design of the reactor stand allows easy filling and emptying by single person. The individual components can be cleaned easily. Two stainless steel vessels with 0.5 liter and 5 liters are available as reactor vessels. For special reaction experiments in the acidic range by adding organic or mineral acids, a 1 liter reactor made of Hastelloy® is used."
Gabriel Gerner, Research assistant, Zurich University of Applied Sciences ZHAW, Wädenswil

"Key factors for our decision making process were the capability of maintaining a desired pressure rating at high temperatures in a glass reactor and the selection of reactor volumes. There are not many vendors that supply pressure & temperature-rated glass reactors. Buchi's history and quality provided confidence to us that other vendors cannot duplicate for an inherently dangerous system. Once the selection was made, the local office effectively coordinated the shipping to get the unit to us expeditiously, another key decision point for us. We are currently using the system as a pilot reactor and have consistently achieved our process goals. We are pleased with the product and would choose Buchi again."
Mike Diener, Principal Chemist, TDA Research

"Our emulsion polymerization process is very difficult to simulate at the laboratory scale. The process runs at moderately high temperature and elevated pressure. High-shear agitation is critical to product quality. We have struggled to identify a pilot reactor that provided just what we need. The available systems either cannot achieve the elevated pressure or are designed for extreme pressure, making them extremely bulky and costly. We had begun enlisting custom equipment manufacturers until we came across the Büchi kiloclave system, which was a good fit for us. With some simple, cost effective, customization, the kiloclave has proven to be the perfect pilot reactor for our process optimization."
Mark G. Stevens, PhD., Sr. Manager, Engineering Design and Development, Dentsply Sirona, Restoratives

"As a manufacturer of high purity chemicals to the medical device industry it was a natural choice for us to choose Buchi reactors and vessels. In particular, whilst the cost competitive solutions for our reactors were important criteria, the first class technical support and speed of service in delivery of technical solutions and spare parts was what differentiated Buchi from its competitors. The configuration for multi-product production has been a real benefit to our business and where necessary modifications have been required these have been delivered on-time and on budget. With our most recent addition of a 300L blending vessel, Buchi were able to incorporate the experience we have learnt over the past few years and deliver to us a custom package that benefited our specific production process, allowing us improved charging and mixing that saved us time, yet delivered the quality end product we expect. As our business grows, we are pleased to continue working with the Buchi team."
Global special chemical company

"The Büchi customized versoclave met our specific reaction conditions for our polymer processing research. We will be using the equipment to scale-up our reaction from a few grams to kilograms. The system will be used to perform hydrogenations and melt processing of polymers. The installed reactor is best suit for our reactions because of it pressure rating, volume, max temperature rating, and the integration of a high torque stirrer which is needed to process the polymer. The equipment came assembled and the only installation required was to configure electrical connections. All doubts and inquiries were resolved through email. We are satisfied with the service provided by Büchi and with the customized approach they took to make a reactor best suited for our application."
Ajinkya Deshmukh, PhD Candidate, University of Connecticut

"Buchi has a long history of providing high quality solutions for pharmaceutical applications. The proposed reactor was competitively priced and met our technical specifications. For Novan, the materials of construction (Hastelloy®), minimalization of dead volumes, pressure / temperature ratings, and vessel capacity were the most critical requirements. Advantages of Büchi include responsiveness of the local distribution partner, transparency during the equipment build in Europe, and effective installation/trouble shooting. Novan is very satisfied with the Büchi high pressure reactor and, in fact, we ordered a second unit during Q2 2017."
Jeff Hunter, EVP and Chief Business Officer, Novan Inc.

"The most important requirement for us was the ability to produce scale-up experiments (kg quantities) of monomers, polymers, and other small organic molecules via different reaction conditions. Buchi was able to provide a flexible system compatible with both solution-based and melt-polymerization based methods. Distillation capability and the ability to stir viscous polymer solutions/melts is critical for our process. Buchi was able to custom design a Hastelloy® reactor to fulfill all of the above requirements as well as minimizing the footprint of the system in our walk-in fume hood. Very few manufacturers were able to provide this type of solution."
Theo Dingemans, Professor, The University of North Carolina at Chapel Hill

"The high level of reliability, multi-functionality and chemical resistance of the Büchi equipment allows us to produce high value materials and intermediates. For us, this versatility has been a convincing argument for buying Büchi equipment for over 30 years.
"Büchi equipment is characterised by flexibility, long life and high quality. That's why Büchi AG has been our first choice ever since the company began bulk production in 1982."
Beat Sax, Vice President Production, Bachem

Büchi was an excellent partner in this project. We had very specific requirements for the system with regard to space, the location and configuration. Based on many years of experience, Büchi bought the highest quality components such as heating and cooling units, pumps and frequency converters from various suppliers. Thanks to a very close cooperation between Büchi and Theravance, we managed to fulfil and even exceed expectations. We created exactly the system that we required."
Vijay Sabesan, Director Process Research and Development, Theravance

"The great advantage when planning the system was that Büchi provided everything from a single source. The merging of the two systems went smoothly and as a sole supplier responsible for the glass process equipment, the autoclave and the complete control, the potential for error was kept low while the quality was kept at a high level."
Dr. Hans-Günter Striegel, Laboratory Head, Teva ratiopharm

"We were highly satisfied with the professional services of Büchi, the very detailed documentation and description of the equipment through all phases of the project. Büchi will be definitely considered as the partner for future projects."
Dr. Branislav Dugovic, Chief Technology Officer, Synthena AG

"Büchi equipment is constructed logically; it is easy to clean and very reliable. At Senn Chemicals, we appreciate Büchi's competent staff and efficient service above all."
Christian Spühler, Head of Technical Department, Senn Chemicals

Read more about Buchi equipment, customer interviews and applications for glass reactors and stirred autoclaves / pressure reactors.